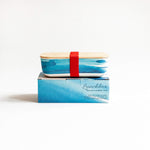 At Emilie O'Connor Homestore we believe it is important to create and contribute. That's why 5% of our profits from the latest collection will be going
to
Surfers' Against Sewage
. We love what SAS are doing and think you will too.
'Holding the powerful to account, and its ability to give ordinary people a sense
of their own capacity for making and driving change'
Robert Macfarlane's.
Surfers Against Sewage (SAS) are a registered UK based charity who empower and inspire communities to protect beaches, waves and wildlife. SAS were founded 29 years ago and have since been working tirelessly to change the tideon plastic waste polluting the precious oceans, inspiring future generations and bringing together communities, take action against environmental threats.
Turning the tide on plastic pollution.
We sadly do not need to look very far to see the devastating impact us humans have on the delicate marine environment. Just last week we were devastated to
hear the news that ingesting a piece of floating plastic had poisoned an orphaned
Dugong, named Marium
. Tragically she is not a one off case. Each year thousands
of wildlife are killed directly as a result of plastic pollution.
We can all make a real difference and regular beach cleans organised by SAS,
take place up and down the country. They also host two huge volunteer lead
clean-ups each year. In the last Big Spring Beach Clean, 47,771 incredible Surfers
Against Sewage volunteers removed 71,737.92 kg of marine plastic pollution
from our coastline. That's the equivalent of 17,934,48 full bin bags!
Find out where the next beach clean is near you to get involved here:
https://www.sas.org.uk/our-work/beach-cleans/
Changing Governmental policy.
Behaviour change needs to happen at governmental level as well as in
communities. Surfers Against Sewage tirelessly lobby the government for more
efficient and effective environmental policy.
At the moment they are
SAS' #GenerationSea petition
is calling to MPs to take
stronger action against ahead of the new environmental post Britexit bill,
implementing legislation to save the seas and protect its inhabitants. Previous
campaigning successfully pushed UK government to ban plastic straws, drink
stirrers and cotton buds on the high street in England from next April. In
Scotland, SAS worked with a range of NGO partners as part of the 'Have You Got the Bottle' campaign, which successfully pushed the government to bring in deposits on drinks containers in Scotland. The scheme, which will come into
force in 2021, is likely to deliver recycling rates of 97%.
Plastic Free Schools
Knowledge is power and SAS are working with schools to help them achieve
Plastic Free Status. In a landmark movement, so far 1,000 schools have been
granted plastic free status which involves a student lead process of ditching
single-use plastic, from conducting a litter audit of the school to challenging
government and industry and removing single-use plastic items from the site for
good.
This is just a few examples of the vital changes SAS are creating, we have only
skimmed the surface; and they have much more going on: you can find out more
about what SAS are getting up too by signing up to their mailing list or heading to
their website.
From every
bamboo lunchbox
 , cup, plate or salad bowl you buy 5% of the profits will go to this Surfers Against Sewage. Along side why not join the movement:become a part of the Generation Sea 
here