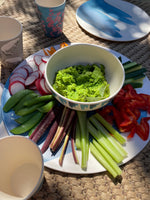 PLATTER IDEA
This refreshing healthy platter is a colourful offering for all get togethers. Serve as nibbles with drinks, at a picnic, BBQ or take to a party!  This moreish dish looks great on our large bamboo platter and the pea green dip in the small bamboo bowl with the blue wave design.
Ingredients
500 gm of frozen peas
3 garlic cloves
1/2 tsp of bicarbonate of soda
3 mints sprigs , leaves picked and plus a few extra leaves for garnishing.
2 large spoons of extra virgin olive oil
Selection of root vegetables of your choice.  I have used red radishes, carrots, capsicum, celery, cucumber and beetroots.
Method
1) Clean and chop vegetables into thin strips bite size slices for dipping.
2) Add peas, garlic and bi carbonate of soda to saucepan of boiling water.Cook peas until peas are tender about 3minutes. Drain well, add to blender with fresh mint and olive oil. Blend until smooth.
3) Spoon pea and mint dip into small bamboo bowl with blue wave design, scatter extra mint leaves and oil, add salt and pepper to taste.
4) Add chopped vegetables to large blue wave platter. Serve to hungry guests!