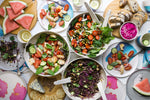 Sustainable outside dining -
 A chance to get outdoors, reconnect with the natural world and share some delicious sustainable food with friends and family, whilst caring about what impact you have on your surroundings.
Whether you're off to a festival, sailing the Atlantic, gathering friends and family in your garden or gearing up for a earth conscious adventure, eating and drinking outdoors is always good for the soul. The good news is it can be eco-friendly too, if we choose to reduce single-use products, buy less, invest in re-usable and take care of the environments we visit.  Here is some eco-friendly inspiration for eating al fresco in sustainable style.
  1. When planning a for a planet friendly meal outside, there are so many ways to  make it fun and creative but still keep your carbon footprint small. We recommend shopping for your menu at local farmers markets and keeping it seasonal and plant based. If your stuck for plant based recipes we recommend checking out vegan cook Wholy Goodness for some inspiration or Cornwall based author of "The New Vegan" Aine Carlin. 
2.    Our friends at Atlantic Blankets have a gorgeous range eco-picnic blankets. Ideal for eating al fresco on the beach or in the wilds, these blankets will part of those happy memories from days spent out in nature. Their approach to manufacturing is slow and ethical – one range is made using traditional methods, supporting mills in Great Britain the other from recycled materials. All the finest quality, their blankets are designed to last. Not only are the blankets themselves a stylish (and cosy) reminder of the great British Atlantic coast but also, every order comes with a Cornish shell as a thoughtful reminder of happy days spent near the ocean.
  3.   Reducing waste. We often resort to quick and easy solutions – buying single-use plastics, throw away cups, plates and containers and quickly forget the impact. But outside dining needn't be synonymous with disposable. Our top tip for a zero-waste outdoor feast is investing in a reusable eco-friendly picnic set that is easy to store and you can use over and over – for all outdoor adventures with your loved ones. 
For more stylish picnic inspiration and eco-friendly al fresco dining tips catch us at some delicious British food festivals this summer – first stop… St Ives Food Festival in the uk.
Or in Aus at the Big Vegan Market in Melbourne.