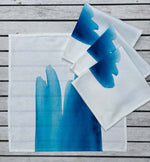 Should we use paper serviettes or cloth napkins?
Napkins are an essential part of any table setting, whether it's a casual supper, yummy brunch, a festive dinner, a fun stylish party for friends or a picnic in the park.
Firstly- Napkins are an essential for avoiding an embarrassing mess. Napkins are made to wipe food and drink away from your month and face. They also are perfect for protecting your clothing and stoping those hard to get rid of stains .Stains from oil ,fruit, vegetables, drinks, especially red wine are better avoided with napkins.The cotton napkins are more absorbent with spills and drips than paper napkins and reusable.
Secondly-The cotton we use for our napkins is organically grown and made  in India. The organic cotton is grown without pesticides from seeds that have not been genetically modified . There are also no harmful pesticides or fertilisers used in farming production of the cotton.The soil is healthier without these chemicals , and this means that less water is required for growing cotton. Therefore, organic cotton has less impact on the environment. It also keeps rivers, lakes, or any drinking water free of toxic substances. In conclusion so it is better for our planet than the cultivation of traditional cotton.
Thirdly- Cloth napkins are stronger and reusable than paper napkins and create less waste.They may seem like an investment but in the long run cloth napkins have much longer lifespan than paper napkins. Cloth napkins create less waste leaving a lighter footprint on the earth.
"Our life is frittered away by detail…Simplify, simplify, simplify! Simplicity of life and elevation of purpose. "
– Henry Thoreau