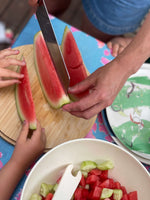 This cucumber-watermelon salad, the perfect antidote for a hot day!
It is refreshing and slightly spicy, so good!
A combination of Mexican and Asian style flavours.
3 cups of cucumbers, cut into ½ inch cubes
4 cups of watermelon, cut in 1 inch cubes 
3 ½ Tablespoons of fresh lime juice 
2 Tablespoons of hoisin sauce
2 teaspoons of seeded and finely diced jalapeños 
1/3 cup of chopped flat-leaf parsley
1 cup pistachios roughly chopped ( optional)
pinch of slat and pepper to taste
Method:
Prepare cucumbers and watermelon on bamboo chopping board and add to large bamboo salad bowl.
Squeeze juice from lime, mix with hoisin sauce in small blue wave bowl.
Stir in flat leaf parsley and pistachios.
Season with salt and pepper to taste.
Take on a picnic, to the beach..
or serve at home..
Perfect for a hot day!
Let us know what you think below?