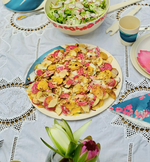 Delicious Beetroot, Apple and Kohlrabi Salad.
Ingredients
200g kohlrabi, peeled
325g mixed raw small beetroots (crimson, golden and candy striped – whatever you can find), peeled
200g watermelon radish, peeled
1½ eating apples
3 tbsp lemon juice
1½ tbsp white champagne vinegar
1½ tsp honey
6 tbsp extra-virgin olive oil (a fruity rather than  a bitter, grassy one)
3 tbsp hazelnuts, lightly toasted and halved (optional miss out if you have an allergy.)
TO MAKE SALAD
Slice very finely the kohlrabi, beets and watermelon radish on a mandoli or with sharp knife . Do the same with the apple, leaving it whole and working from each side towards the core to make circles, discarding the core itself.
Make a dressing by mixing the lemon juice, vinegar, honey and some seasoning together. Whisk in the olive oil.
Reuse an old jam jar to make the dressing in. If you have any left over can be used for days afterwards with any salad. Its a really refreshing and simple to make. 
Spread the vegetables and apple out on our large bamboo platter , dressing them as you go rather than tossing, so the beets don't stain the apple or rest of the vegetables.
Scatter the nuts on top( optional) and serve immediately.
Serve with cheese and crackers.