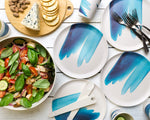 All our tableware is made with bamboo . Its light and easy to carry, dishwasher proof and so much better for the planet!
Here are three reason why we should consider swapping our plastic lunch boxes, plates and cups for bamboo lunch boxes, bamboo plates and bamboo cups!
Pictured : Pink coral bamboo lunchbox.
1.Bamboo is one of the fastest growing plants, its grows every three to five years and it can be harvested frequently with little damage to its surroundings. As plant it produces 35% of oxygen than any other plant. After harvesting it, virtually every part of the planet is used, leaving very little waste.It replenishes itself very quickly growing new shoots every year making it very sustainable .
Picture :Bamboo tableware set with Green Turtle design .
 2) Bamboo tableware is better alternative than plastic tableware which is full of harmful chemicals which over time impact our health. this bamboo is free from BPA. The bamboo also grows without pesticides and has natural antibacterial properties.
3) All the designs are created to connect people with nature, the sea and endangered animals to spark conversation about our natural world and how we can look after and treasure it.
 From each sale we contribute some of our profits to help clean up the sea  donating to Surfers against Sewage.