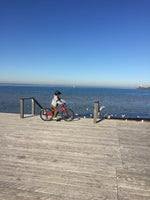 Blue wave adventures .
Here at Emilie O'Connor Homestore, we design with nature. Our collection, including the 
blue wave gift set
and bamboo
lunch box
was carefully created to connect you back to nature, whether it be via the design itself, as a reminder, or how you use it (made from eco-friendly bamboo, the collection is suitable for indoor and outdoor use - we love taking ours
on adventures).
Adventures in the age of Covid-19 have been a little thin on the ground! That said, we have enjoyed picnics in the garden and walks by the sea. On one such afternoon, we sat down with our blue wave lunch box, sandwiches and strawberries at the ready, and gazed out over the horizon wondering about the deep blue. How little we know about this environment we so depend on. More than 80 percent of the ocean is unmapped and unexplored.
What we do know, is that human activities affect nearly all parts of the ocean. From billions of tonnes of plastic clogging up coasts all around (see '
Great Pacific Garbage Patch
 ') the world and poisoning precious marine life to our carbon emissions threatening the delicate balance of this underwater universe.
Harry and Arty share a love for the ocean. Harry (aged 7) is keen on ocean animal facts. His favourites at the moment: 'did you know the ocean is home to the gargantuan blue whale, the planet's largest living animal.' And 'Dugongs are most closely related to elephants.' They are big fans of a post school paddle.Not only is it vital for the survival of our species but also so much joy can be found in
connecting with the ocean. So, how can we do more to save and protect this environment for our children and future generations?
You may have heard that it's
plastic free July
. A great movement started in 2011 in Western Australia which encourages millions to participate in going plastic free for the whole of July,to show how living without plastic waste can be done. We're all for this, which is why all of our tableware is made from bamboo and reusable rather than single use.
But our buying habits need to extend further than just a few plastic swaps.
Some ideas
- We have teamed up with eco-friendly companies like
Wearth
 , who encourage
eco-friendly buys, support small designers and aim to bring planet friendly
options. With every tableware piece you buy, you support Surfers Against Sewage.
- Our friends at little Earth Baby are making beautiful products for littlies, from
Bamboo sleeping bags to organic cotton comforters.
- Switch from plastic cling film to reusable bees wax or vegan food wraps. You can now find the unforgettable
Dugong Design
on reusable vegan and bees wax wraps.
Handcrafted in South Australia using 100%
GOTS
certified organic cotton,
either local filtered beeswax or plant based wax (
VEGAN
friendly), damar resin
(we do NOT use pine resin due to high allergy and jojoba oil. There is also no coconut oil in our wraps which means they will not go greasy!)These are the only wrap in the world which is also certified palm oil free!
- Keep learning and talking with others about environmental problems. At the
moment there is tonnes of research going on and many ways to show your
support. For example, Surfers Against Sewage are currently calling the British
government to end sewage pollution and guarantee safe seas all year around.
See more here:
SAS
Keep an eye on Emilie O'Connor Homestore
blog
over the next few weeks as we focus on the creatures who inspired our designs and share further inspiration to encourage planet friendly lifestyle.