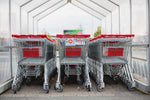 Conscious consumerism has gained a lot of traction over the last decade. But what is conscious consumerism, is it a positive movement, does it really lead to a more sustainable, planet conscious, lifestyle? 
 So why would this not be a good thing?
Some people have argued that this is not realistic – that companies and big business will never be transparent enough for us to make truly 'conscious decisions' and anyway, what good can one person really make? What do you think?
We might not be able to single handily change the planet but together we can make a difference to the environment we live in and the future of it. Of course, the small steps that we take are merely a drop in the ocean and the good we feel from doing them must not lead us into a false sense of security.
But sometimes it feels even too bigger commitment to start. We hope that these tips might be useful in consuming more consciously and ultimately help build a more environmentally conscious lifestyle.  
I imagine that you have a toilet and you've never thought much about it? Just accepted it's presence and got on with your 'business.' Grateful for it at times but not paused to think anything other than it was a given in your home. But did you know that toilets really are not a given for billions of people in the world – 2.3 billion people do not have access proper toilets and sanitation. Leading to disease and death for hundreds of thousands of people every year.
We can be more conscious even in the everyday – the wonderful souls at 'Who Gives a Crap' are determined to show us just that. They make all of their loo roll and other products with environmentally friendly materials and donate 50% of their profits to help build toilets for those in need.
One of Emilie's ideas when designing the first range was to make something that could replace those children's Ikea cups that were better for the planet. Our picnic sets come with four stylish cups, perfect for family gatherings or day-to-day use. They are all reusable, 80% biodegradable, dishwasher safe and BBA free.
Going circular 
At the moment we have predominantly linear economy. We take natural resources, we turn them into a product, and then we throw them away. Rather than throwing away, to become more sustainable we reuse and recycle them and they go back into the supply chain, either just as they were and given a little care or transformed to be part of something different. g between friends. We love 
Christy Dawns
dresses which are made out of unwanted dead stock from other garms (the off cuts of material you get when making clothes). Or you could hit 
the charity op shops and vintage markets around Melbourne
 .
Refill, Refill, Refill
The amount of eco-friendly, zero waste, supermarkets popping up is amazing. A delicious alternative to pesky plastic packaging, collect your jars and head down to a 
zero waste store
 in Melourne. Other ways to cut down on packaging include buying refillable bathroom products and buying washing powder in bulk or cardboard boxes.
Simple things like being more conscious when we are cruising the fruit and veg isles of our local supermarket. Lately we have really tried to ask ourselves whether we can find loose veggies. Most of the time you really can and it's just as simple as making a little effort to start off with. Fruits we have actually found harder. But a lovely alternative is to pop down to a market instead.
Finally a quick hack for butter lovers – why not buy your butter in grease prof paper instead of a plastic tub? You can store it in the paper or butter dish.
 To Shower or to bath? That is the question.
 A conscious shower involves making it snappy and uses less water than a bath (the average bath uses 36 gallons a go, where as a snappy shower only uses around 5 gallons a min – snappy = around 5mins). Another tip from getting an aerated shower-head, which combines water and air, or inserting regulator in your shower which puts an upper limit on flow rates.
Other water saving tactics include always filling your washing machine and dishwasher, turning off the tap between rinses of your tooth brush and filling a jug with tap water and placing in the fridge for instant refreshment - avoiding running 'till you get that cold.  
A note on the 'The Conscious consumer trap' - not falling back to sleep and telling ourselves this is all we need to do.
 Finally, day-to-day, let's remind ourselves of the responsibility to keep rallying for a more sustainable future, which starts at home but must ultimately lead us up the ladder to demand change from fossil fuel companies. We must demand radical change from the government, that they take action against fossil fuels before it is to late for our beautiful planet.
Let us know how you go and let's carry on the conversation..
Let us know if you have any sugestions in comments below we could love to know?